Hi Everyone!
I know it's been a long time coming, and I appologize for the delay. Personal issues prevented me from completing this installment of The Triadine Saga, but I have great news. It's just around the corner now!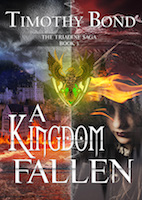 Here is the cover. As usual, Jeanine Henning has done an incredible job capturing the essense of the story in her one of a kind covers.
I'm very excited to be bringing you this book, and hope you enjoy it as much as I've enjoyed telling the story.
The next book, Goddess of Paladian, is well underway and should be published in the spring of 2018.  This time there should be no significant delays.
As a reward for being valued readers, when the ebook is available for download in the various stores I will be sending you a link, and for the first two weeks it will be priced at only $0.99!  Yes, that's right, only $0.99 for those of you on my email list to grab a copy at the time of release.  After that it will go up to the retail price of $3.99 and general marketing and advertising campaigns will kick it. For you, my readers, I will keep the price low in hopes that you download it early and write a review to help others know how much you enjoyed it!
If you have not downloaded Prophecy's Queen yet, the Prequel to The Triadine Saga, it is available though the giveaway on the following page as well. There are some really great authors to be found here, and I'm pleased to bring you this chance to add some terrific free books to your Sword and Sorcery library as well.  Enjoy!

---
Share this link with your friends, and enjoy some wonderful free books today! 
https://www.instafreebie.com/gg/wUKV3Vtj7PNznS97pO7M
All the best!
-Timothy